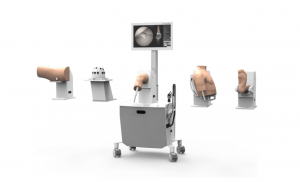 The VirtaMed ArthroS™ prepares trainees for the operating room quickly and efficiently. Support your trainees through their arthroscopic learning journey with progressively more complex training cases and society-endorsed and competency-based curriculum.
Multiple modules for knee, shoulder, hip, and ankle with progressively more complex training cases and society-endorsed and competency-based curriculum.
For more details, click here.
Practice, learn and improve minimally invasive surgical (MIS) skills, from basic to advanced laparoscopic procedures with the CAE Healthcare's LapVR. LapVR gives learners the opportunity to develop proficiency in techniques such as suturing, knot tying and loop ligation as well as some frequently performed laparoscopic surgeries like gall bladder removal and tubal occlusion for risk-free learning before they touch their first patient. Unlike other simulators, LapVR permits the upload of supplemental multimedia content to enrich the learner's experience. The simulator supports setup for individuals or groups, and easy course planning. Administrators may easily customize case parameters to match each learner's performance level. At the conclusion of each case, learners are debriefed with evidence-based metrics and outcome measurements. The recorded metrics and post-case debriefing provide analytical feedback for continuous trainee development.
For more details, click here.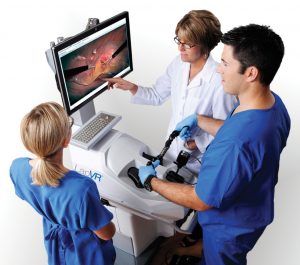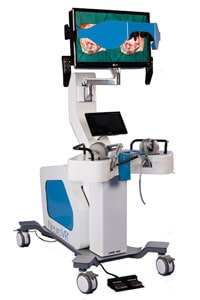 CAE Healthcare's NeuroVR enables neurosurgeons and residents to practice and develop expert skills in open cranial and endoscopic brain surgery within an immersive, VR training environment. With modules that replicate realistic instruments, imaging, and open neurosurgical procedures, NeuroVR allows risk-free, self-directed practice resulting in reduced medical errors and better patient outcomes.
For more details, click here.
VirtaMed UroS™ provides simulation training for TURP, TURB, and Laser Enucleation of the Prostate with Thulium (ThuLEP) or Holmium (HoLEP). Urologists learn to master instruments and manage complications without involving live patients. Didactic content and expert movies exemplify best techniques. Individual courses allow for personalized urologic surgery training.
For more details, click here.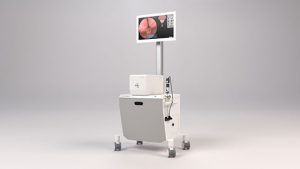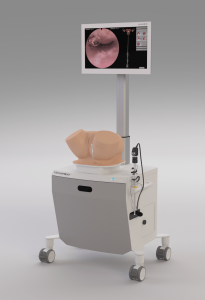 VirtaMed GynoS for entire spectrum of OB/GYN training: from obstetric ultrasound, to hysteroscopy, embryo transfer, and IUD placement. Accelerates learning process and improve student performance with photorealistic graphics and natural haptic feedback. Reduces training time and cost with proficiency-based training and assessment.
For more details, click here.
LapVision, from leading simulation provider, MedVision is the most advanced laparsocopy simulator available today. It is avaialble in 3 hardware configurations: Smart (Portable), Standard (Stationary) and Hybrid (the only patient simulator on which laparoscopic surgical trainer can be performed).
The proprietary magnetic feedback of LapVision allows for unprecedented immersion with wireless instruments that can be pulled out from the ports making it the most realistic laparoscopy simulator available today.
Moreover, LapVision Smart provides a unique opportunity of upgrading the same simulator in future to LapVision Hybrid, a proprietary simulator which intergrates laparoscopy simulator with an adult patient simulator for ultimate realism.
LapVision also offer a wide range of training modules on all 3 hardware platforms.
• Basic Skills
• Certain Significant Laparoscopic Skills
• Suturing & Knot Tying
• Certain Significant Suturing and Knot Tying Skills
• Essential Gynecological Procedures
• Hysterectomy
• Laparoscopic Cholecystectomy Practical Skills
• Laparoscopic Appendectomy
• Sigmoidectomy
• Total Laparoscopic Cholecystectomy
• Abdominal Cavity Diagnostics
• Small Bowel Acute Adhesive Obstruction
• Hernioplasty
• Salpingo Oophorectomy
• Splenectomy
• Nephrectomy
• Abdominal Training Check up
• Laparoscopic Nephrectomy Practical Skills
For more details, click here.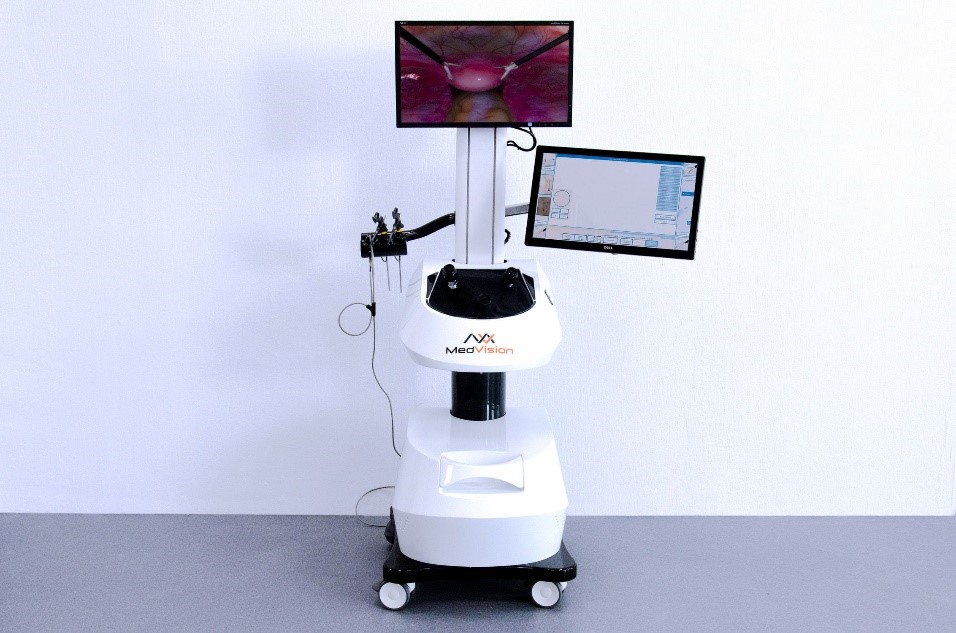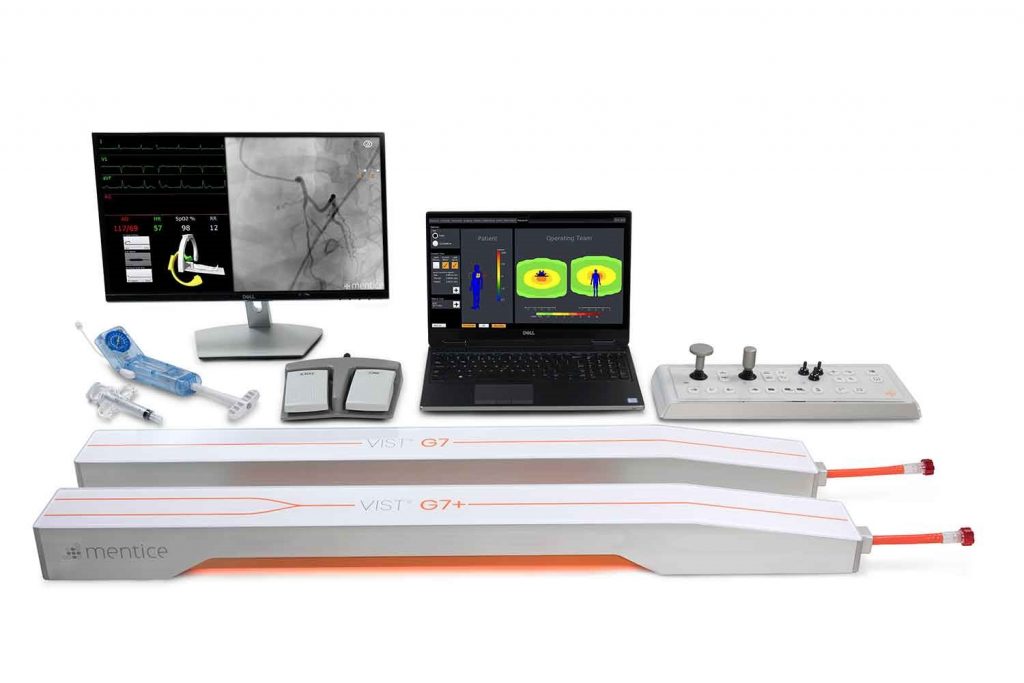 Mentice VIST® G7 is the flagship and latest generation of endovascular simulators supporting all our software training modules. Using HapticRealism™ technology to bring you unmatched force range and accuracy, we've created the optimal environment for proficiency-based training, patient-specific simulation, and objective skills assessment.
Combining the VIST® G7 with the VIST® Virtual Patient integrated with leading angio systems goes one step further in providing the most realistic simulation for interventional procedures on the market.
For more details, click here.
Mentice VIST G5 is a portable high-fidelity endovascular simulator enabling hands-on procedural training for clinicians and medical professionals.
The VIST G5 has a modern design and brings ease-of-use and simulation realism to the next level.
The modules include a wide variety of training scenarios to challenge the learner's technical skills, clinical decision-making abilities, and procedural proficiency.
For more details, click here.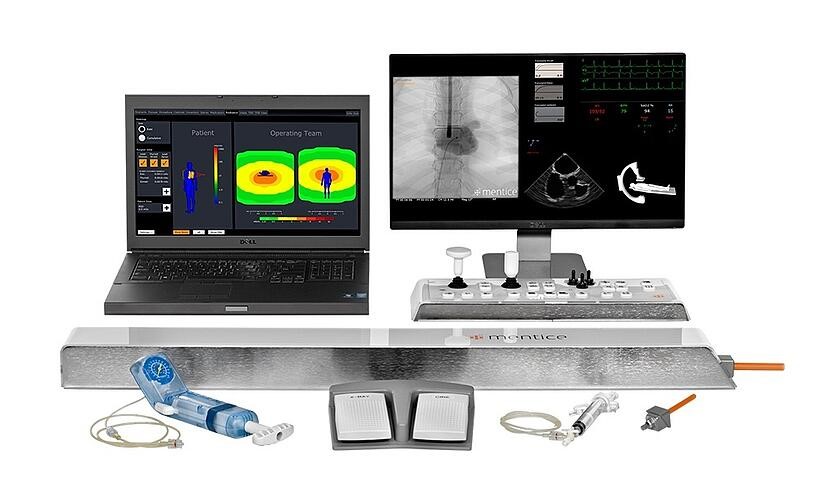 CAE Healthcare's EndoVR is a new generation of interventional simulation where virtual reality, haptics, and real patient cases push the limits of medical simulation. Designed for better performance with a state-of-the-art user interface, the EndoVR is easier to configure and use. Learners interact with cutting-edge graphics, while instructors enjoy the enhanced ability to quickly build and access endoscopic training curriculum. Supporting three learning environments in an all-in-one platform, including basic to advanced bronchoscopic, upper gastrointestinal tract (GI) and endoscopy training procedures, the EndoVR offers learners realistic exposure to a comprehensive set of anatomies and pathologies, resulting in greater confidence and comfort in endoscopic exam techniques.
For more details, click here.